Senior Men's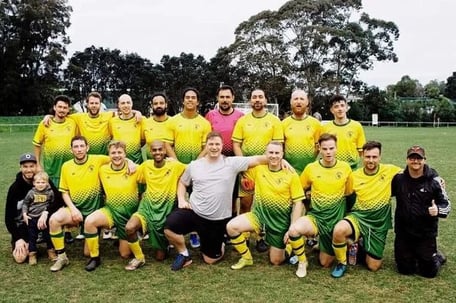 Otahuhu United AFC Senior Grades 2023 Season:
Men's Under 19's
Men's Open Grade
Men's Over 35: born in or before 1984
Men's Over 40s
Our teams compete in the Northern Region Football (NRF) Competition (formally AFF - Auckland Football Federation)
There are competitive and social teams available to join each year.
Men's teams train at least once a week and play on Saturday afternoons.
To find out about the opportunites available please contact: Club Secretary: Natasha West - otahuhuafcsecretary@gmail.com or 021 042 3341
Registrations:
SENIOR REGISTRATIONS: All Senior players (new and returning) will need to register individually for the 2023 season
Registrations are not completed until fees paid in full. Please contact Registrations on otahuhuafcsecretary@gmail.com to arrange a payment plan if required.
Playing Strip
The Club will supply the Players team shirt, green shorts and yellow socks. This will be handed to the team coaches and managers of the team. This gear is to be returned no later than the 20th October
Any damaged or missing uniform may incur additional charges that will need to be paid in full. This could prevent a player from transferring to another club in the future if not setttled prior to the offical transfer request
It is mandatory to have shin pads and the appropiate footwear. If unsure where to obtain, please reach out to the club
Senior Fees Policy 2023 Season:
All Fees to be paid in full before the 20th June. There is a no pay no play policy in force, the player will be red flagged and removed from any team list.
Payment plans can be arranged and should any payments be missed the player will be subject to the above implications
Additional late fees will be applied to all late / missed payments by the club
Any fees still unpaid one month after the player has been stood down, will signify that the player is defaulting on their commitment and the club will start the collection process with Bay Corp.
Senior Fines Policy 2023 Season:
All fines are to be paid /disputed within 28 days of the Invoice being issued by the Club.
If the fine is not paid after 28 days, an administration fee will be applied by the club.
If the fine is still outstanding after 60 days of the original invoice being issued by the club, the player will be stood down until the total amount owing is paid in full.
If the Original Fine is still outstanding after 90 days from the club issuing the invoice, then the club will start the debt collection process with Baycorp.
If a team plays a player that has been stood down for unpaid fines/ fees, the club will default that game and any additional fines will be passed onto the team